Edgewood Swim Club, a cherished community institution, had recently revitalized its appearance with a fresh coat of paint on its exterior. However, its old hand-painted signs began to feel out of place against the updated facade and were showing signs of wear and tear. This discordance and deterioration provided an opportunity for a creative upgrade. Tamkus Art & Design was commissioned to breathe new life into the club's signage and harmonize it with the updated look of the building.
With the creative freedom granted, we embarked on a mission to design a sign that would not only complement the refreshed building but also capture the vibrant spirit of the Edgewood Swim Club. The resulting sign, a striking 8′ long x 2′ tall piece, was designed with a unique shape to garner attention and stand out. It was not merely a sign, but a fresh identity for the swim club.

The transformation of Edgewood Swim Club's signage serves as a vivid testament to the transformative power of thoughtful, well-executed design. Through understanding the club's ethos, visualizing the club's refreshed aesthetic, and bringing it to life with artistic prowess, Tamkus Art & Design was able to create a sign that not only enhanced the building but also came to symbolize the club itself.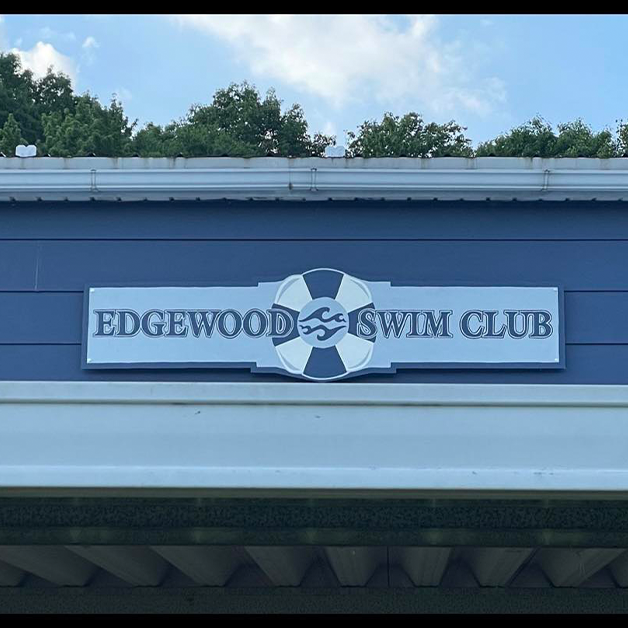 With Tamkus Art & Design, you can trust that your sign painting will be a visually compelling work, capturing the spirit of your message and communicating your narrative with lucidity and artistic flair. Let's embark on this cooperative venture, as we create a sign that not only embodies your unique message but also becomes a vibrant symbol of your endeavor's success. Contact us today to initiate the thrilling process of manifesting your vision through the art of exceptional sign painting.